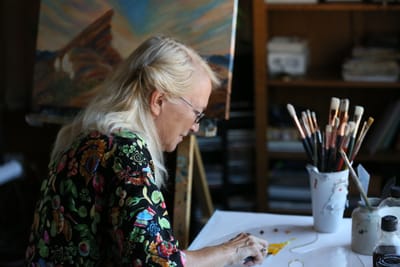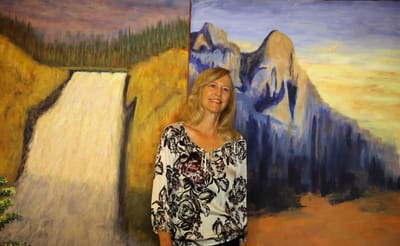 Many years ago, Therese Verner started her artistic career creating and designing custom stained glass windows. Her creations were sold and installed in dozens of homes throughout the Los Angeles area. A self-taught artist, Therese specializes in creating oil paintings and mixed-media works inspired by her love of nature and the cosmos.
Even though she is legally blind, she has enough sight to create works of art to brighten others' lives. An amazing video, created and produced by Giulio Meliani, features Therese's thoughts on Lignt and Art:
Let there Be Art
Therese had 4 pieces in the Surf City Art Festival at the Huntington Beach Art Center, see her
video
.
Therese was awarded a 2018 Arts and Accessibility Grant by the National Arts and Disability Center.
Therese's 2019 solo Art Exhibition at the Poway Center for the Performing Arts included 60 artworks, see
Poway Solo Art Exhibition Video
.
Therese's artwork has been exhibited and sold in many galleries and museums, including the Poway Center for the Performing Arts, San Luis Obispo Museum of Art, Santa Paula Art Museum, The Latino Art Museum, The Channel Islands Maritime Museum, The Neutra Gallery, Laemmle Playhouse 7, La Galeria Gitana, and Lancaster Museum of Art CEDARFEST.